Fairfax, Va. – Voters in Florida's 13th congressional district elected pro-Second Amendment candidate David Jolly to the United States Congress in yesterday's special election.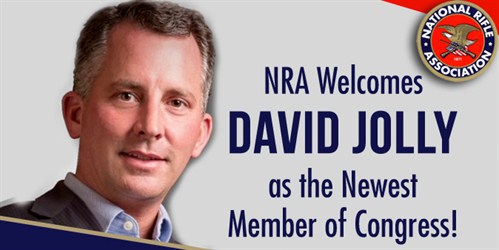 "On behalf of our 5 million members, I'd like to congratulate David Jolly on his victory in Florida's 13th congressional district. David Jolly's victory is a victory for the Second Amendment," said Chris W. Cox, chairman of the NRA-PVF. "Voters had a clear choice between Jolly who earned the endorsement of the NRA-PVF because of his commitment to protecting our fundamental Right to Keep and Bear Arms, and Alex Sink who earned an F-rating from the NRA-PVF and who aligned herself with Michael Bloomberg and his anti-gun agenda.
"The NRA mobilized our members and pro-gun voters in this congressional district. Thanks to our members who voted early and turned out yesterday to vote, their efforts made a significant difference and helped win the day for the only candidate in this race who supported their right to Bear Arms, their hunting heritage and their right to self-defense.
"I look forward to working with David Jolly in Congress to protect our Second Amendment rights," concluded Cox.
---
Established in 1871, the National Rifle Association is America's oldest civil rights and sportsmen's group. More than five million members strong, NRA continues to uphold the Second Amendment and advocates enforcement of existing laws against violent offenders to reduce crime. The Association remains the nation's leader in firearm education and training for law-abiding gun owners, law enforcement and the armed services. Be sure to follow the NRA on Facebook and on Twitter @NRA.